If Seattle Pacific University had an Official Movie, what would it be?
Nominate your favorites by writing to me at overstreet@spu.edu. Make a case for a movie that you think best represents the spirit of this great university, and I'll share it here at NxPNW.
I'm making the following nomination: The Secret of Kells, a 2009 animated feature directed by Tomm Moore (Song of the Sea) and Nora Twomey (The Breadwinner).
Why?
I'll tell you why. This really happened:
As I laid the groundwork for this website, I started asking faculty members about the movies that mean most to them, and how we might showcase those. The first two I approached were Dr. Brian Bantum, associate professor of theology and cultural studies, and co-director of SPU's Social Justice and Cultural Studies program, and Dr. Christine Chaney, professor of English and director of SPU's University Scholars program.
Within moments we were talking about The Secret of Kells. Both of the first two professors I asked, for very different reasons, were featuring this movie in their classes. I was delighted. I've introduced my students to the movie as well for purposes of my own.
And so we got together to record a conversation about how much we admire this movie, how much it has to offer us in its extravagant animation, its rich tapestry of storytelling, and its exploration of faith and art.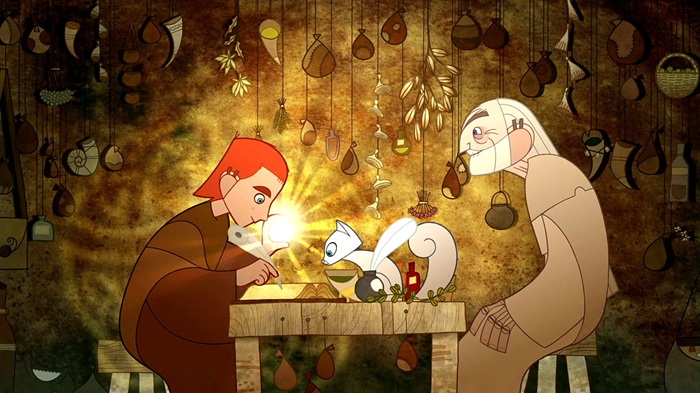 I show The Secret of Kells during Finals Week in my class called Disciplinary Research and Academic Writing. It may seem like a strange choice for that class. But my sessions of that class focus on critical thinking about the arts, and The Secret of Kells is a movie about the power of the imagination. Beyond our primary endeavors in that class to grow as writers and thinkers, we talk a lot about many of this movie's important themes:
The Gospel's call to open our gates to the poor, the needy, the oppressed.
The Gospel's disregard for walls that represent fear, hatred, prejudice, and condemnation.
The rewards of participation in conversation with a diverse community.
The importance of recognizing that God is at work revealing truth in many vocabularies, many cultures, even those beyond the borders of the church
Looking beyond the narrow scope of the sphere within which you grew up, and opening yourself to sources of wisdom from around the world.
The ways in which our own endeavors to achieve excellence are imitations of God's own creative work in the world, especially in nature.
So it's a joy to invite you into my conversation with Dr. Bantum and Dr. Chaney about this remarkable film.
I hope you enjoy it. If you're interested in asking questions or responding with perspectives of your own, write to me at overstreet@spu.edu, and I will share some of those contributions here.
But we only scratch the surface of all there is to enjoy, admire, and discuss in this movie.
If you're interested in reading more about the film, here are a couple of links:
I've written about this film for Christianity Today: "Why The Secret of Kells is a Perfect Christmastime Movie."
And I've published a conversation at Looking Closer with film critic Steven Greydanus of The National Catholic Register and Decent Films about our mutual love for the film. (This conversation was originally published in two parts at Good Letters, the Image blog.)
For more information, visit the film's official site.
Watch this interview with director Tomm Moore: